lovelyangel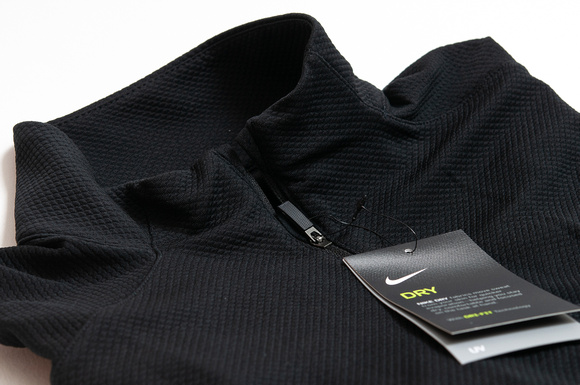 Nike Dri-FIT UV SPF 40+ Golf Top
I'm not exactly sure what I'm going to wear for my annual self-portrait. My current options seem a bit limited. While I was thinking about possibly doing a little shopping, an email promo encouraged me to check out new items in Nike Golf clothing. I did see something that might work, but it's pretty hard to tell online how good a clothing item is. I figured it couldn't hurt to see if the top was available locally; the Nike Company Store features many of the hot, new items – and the deepest discount is at that store.
I actually have a strategy for shopping there. Go on a weekday. Arrive around 8:40 am – after the initial crowd has blasted through the store – and before the general opening at 10:00 am. Today is not a company holiday, but many people have taken the day off as there's no school on Presidents' Day. I thought there might be more people at the store because of this – but thankfully the place was sparsely attended. I could shop in peace.
I always love the high energy music in Nike stores – and it's a nice pick-me-up early in the morning. I can't help but smile and bounce a little. The top I was interested in was there in two of three colors. They had the black one – but not the white. The baby blue was not my color. I could see by eyeing the tops that once again Nike sizing has gone wonky. I wish they'd get their act together. For Nike golf clothing I usually take a Large, but I could see that Medium was plenty big. I tried the top on, and the Medium was fine – cut a smidge large in some places, so it fit loosely. Better too loose than too snug.
I would have like to have tried the white top. If the black top works out, I might go for the white one online. I really don't need
another
black top. This one is for a photo shoot and is definitely an indulgence.
I looked around, and there weren't any other items – shoes, tops, or pants – I was interested in. I made the single purchase and came home.