This week, the Shuster Award nominations were announced, and for the third year in a row, the Toronto Comics anthology has been nominated for the Gene Day Award for self-published comics. We've lost out the last two years, and I don't really expect this year to go any differently but, as they say, it's an honour to be nominated.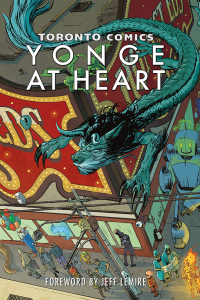 Because of eligibility date requirements, the nomination was for Volume 3, which came out in 2016. But it's 2017 now, and there's a fourth volume. This year, the editors dispensed with the "Volume X" subtitle, and gave the book its own swanky subtitle: Yonge at Heart! This year's book is a bit smaller (in a "number of pages" sense) than previous years, but what it lacks in pages it makes up for with vibrant colour! And, boy howdy, does that colour make for some gorgeous pages.
Mirrored from Under the Beret.